Time Limit:
Closely related to the Specific Number of Hands method is a time limit game. In this case, the game will be played over multiple hands until a certain time limit (such as two hours) has elapsed. Once that time limit is reached, the current hand in progress would normally be first played out. At the completion of that hand, the game ends with the player or team with the highest accumulated total over the course of all hands played during the specified time limit declared the winner.


Player Elimination:
This is another method which has become popular with many of the more recently created games. This variant is usually used in games in which the goal is to avoid accumulating of scores during the hand. When using this variant, when a player reaches or exceeds a certain score (usually totaled at the end of a hand), that player must drop from the game. The game continues until there is only one player left, who is set as the overall winner of the game. In other variants of this method, the player with the highest or lowest total might also be eliminated from the game at the end of each round or hand.



Token or Chip Depletion:
Similar to Player Elimination, another option sometimes used is the concept of a player having a certain number of tokens. At the beginning of the game, each player is distributed some equal number of tokens. Upon fulfilling some criteria (such as being the last to run out of cards during a hand), the player loses one or more tokens. Once a player loses his last token he must then drop from the game.



Multi-Hand Goal:
In this scheme, a specific numerical score may not be kept, but a player is attempting to complete some set goal over the course of any number of hands. Often, the results of a player's previous hand will have a direct bearing on the next hand (such as the number of cards dealt to that player). Once a player, at the completion of a hand, had achieved the games goal, he is declared the games overall winner.

Recording the Score:
Any game that does in fact use some form of score accumulation also requires a method in which this score is recorded. There are several methods in which this is commonly done, which include the following popular methods: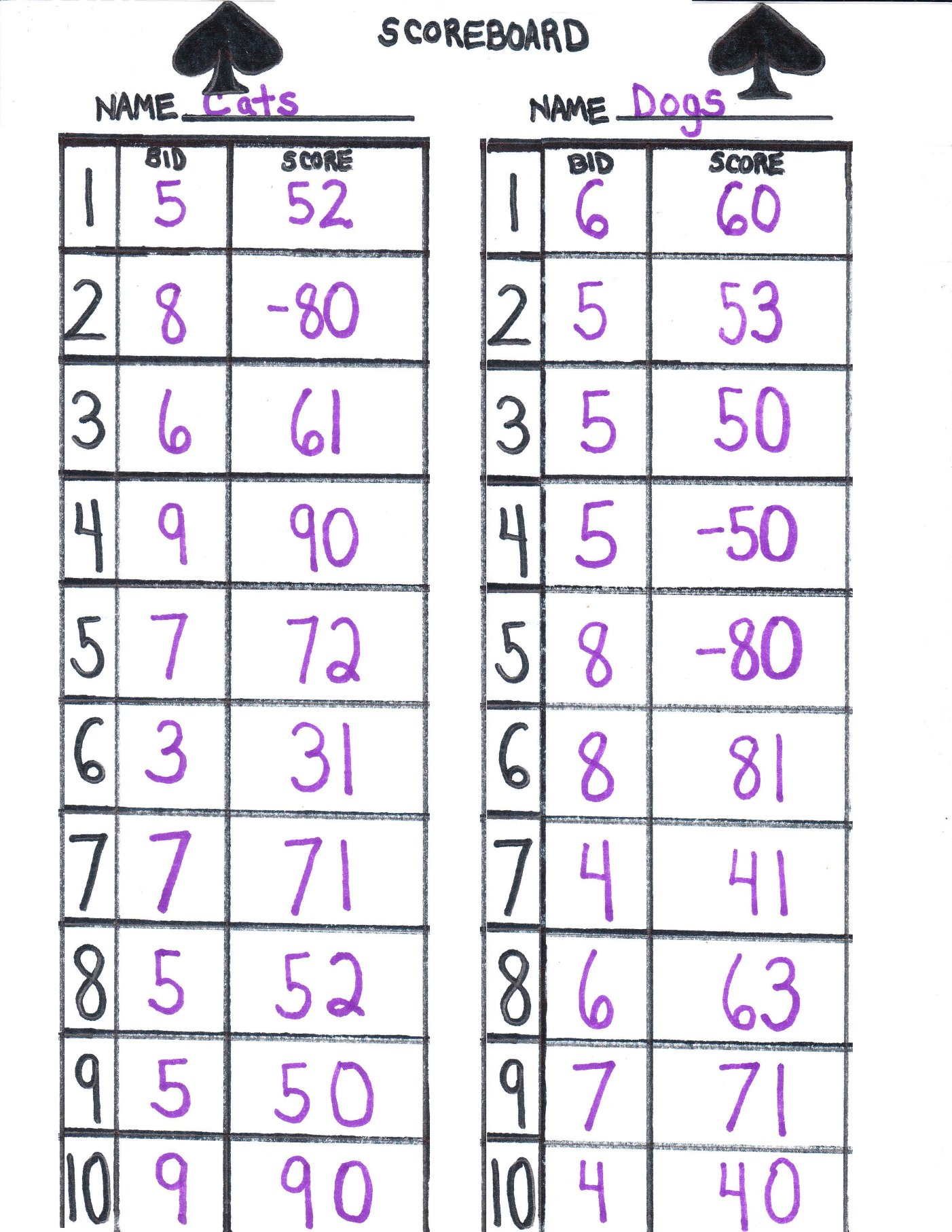 Pen and Paper: By far the most common method is the use of the traditional score sheet. In this method, each player's score is recorded on one master score sheet. Usually one column is made on the scoresheet for each player (or partnership) with their ongoing score throughout the hands added to the scoresheet as the scores are made. The scores recorded in the column can then be quickly added together to determine any player's current score at any point during the game. Often, subtotals are made after each hand to show the player's current accumulated score in the game so far. In games which also feature potential negative scoring during the hand, a subtractive score is marked in such a way to be clearly distinguishable, such as being made in a different color. When a player's total score is negative, this is also marked in some distinguishing manner, the most common being to circle the total (called "in the hole").
When the scoresheet method is used, one player (often the dealer) is usually selected to also be the scorekeeper for the hand and ensure all scores are marked and added as appropriate. At any time during the game, generally any player has the right to ask what his or any opponents current score, as recorded on the scoresheet, is at the current time.



Chips or Tokens: Another fairly common method of keeping a cumulative score over the course of a game is to use tokens or chips. Before the start of the game, each player is usually provided a set and equal number of such chips. Each player, during the hand may be required to pay or collect chips to or from the other players. At the end of some set number of hands or specific time span the game ends and the chips can be easily counted to see who has the highest total and would thus be declared the winner. In most standard, competitive games of cards that use this method, the chips provided are all similar and intended to represent the same number of units. However, in some games, there may be several styles or colors of tokens or chips intended to represent varying scoring denominations (i.e. one unit, five units and ten units).



Special Markers: Several games use score marking mechanisms that are unique to that particular game and possibly it's variants. This would include scoring mechanisms such as the special board used when scoring Cribbage in which the movement of individual pegs on a board represents the current games score. Other games might use spinners, sliders or other mechanical devices. Several games also record the score using playing cards which are not used in the actual course of the game. This might using the specific rank of the card to display the score as in Euchre, or placing cards in a certain pattern to represent a player or teams current score. These methods are usually traditional methods used specifically for that game or some of it's variations.



Electronic Devices: A fairly recent addition in scoring mechanisms is the use of electronic means for recording scores for card games. Originally these were digital devices which allowed for players to easily record and add scores, usually for a specific game. Usually these were created for very specific and popular games, such as Cribbage and Bridge. More recently a number of computer programs and smart phone apps have been created which can record scores for many of the most popular card games. In addition, these devices or programs can often be configured to track a number of other statistics, such as ongoing Game Points, maximum and minimum scores, trends over a particular time period and many other similar facts. Most of these programs can be downloaded free to a users mobile device or computer. See our Links page for sites that feature some of these utilities in which a player can download.


Game Points:
Although most games may keep a cumulative score from hand to hand until the current game completes, some players or card groups prefer to keep an ongoing score over a longer period. This may be over the course of many games, a number of game sessions or perhaps even over a number years. Thus, while, at the completion of a game, the game scores are reset with each player starting again from the base score (usually zero), a number of global game points may be recorded on an ongoing score for each participant. These points usually have no bearing on the score during the game, but can give an overall score rating over the course of a longer time. These types of Game Points are often used in card clubs or groups to rate players over a potentially long period of time. This is also sometimes referred to as Ladder scoring, as it shows a player's position on a ladder based on his current number of game points.

In most cases, a player's point score earned during play of the game does not carry directly over to be added to a Game Point score, there is usually some type of translation from a player's score during a specific game to an overall, ongoing score. Sometimes this may be as simple as earning one such global Game Point for winning a specific game, but may also be directly calculated by the margin of victory during a game. In addition, players may also have Game Points subtracted from their Game point score based on the outcome of a particular game or set of games.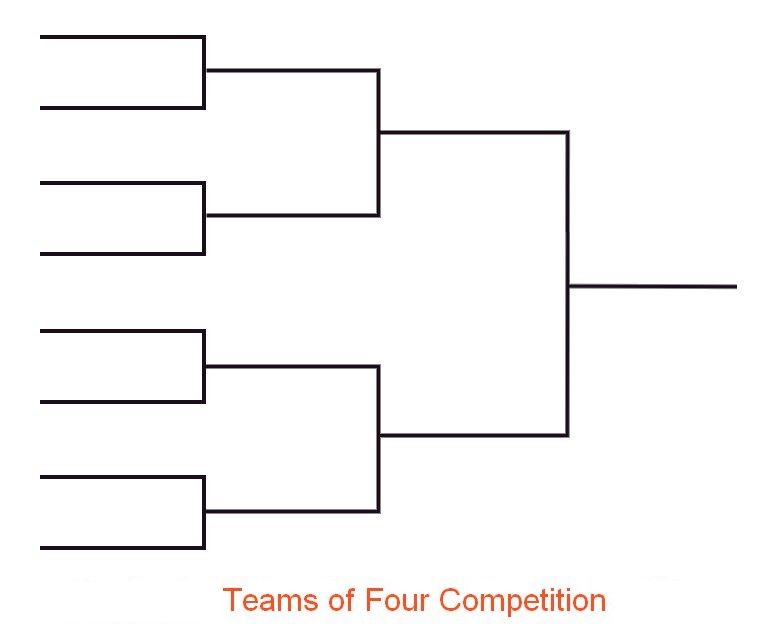 Tournaments and Competitions: In addition to Game Points and Ladder Points, many players participate in Card game tournaments. There are a number of formats commonly used in these tournaments in order to determine the ultimate winner of the tournament. These include the following:


Bracketing: One of the most basic, but also most commonly used methods for tracking progress and results during a tournament is the familiar bracketing often used in sports contests. In this method, the winners of each game or hand (called a round) moves on to play winners from other matches participating in the same tournament. There is usually a bracketing chart created for the tournament that shows the initial teams and opponents and then indicates which winning players or teams will face off in the next round. The tournament usually continues in a number of rounds, with each round containing half the number of teams or players as the previous round. The rounds continue until just two teams or players remain. These players then have a playoff for the grand winner. In this tournament format, scores are usually not carried over from game to game. In addition to the normal single round elimination format, other options include the Double elimination (in which a player or team is not eliminated from the tournament until two game losses) and the Swiss format (players play some but not all of the other participants, usually against those with similar current scores in the tournament). This illustration shows a sample four round single elimination bracket diagram that might be used in a teams of four competition.



Round Robin: Another method which is often used for smaller card tournaments (up to about a maximum of 8 full tables of players) is to use the Round Robin or Progressive contest style. In this format, players continue playing and are not eliminated after a certain number of losses and continue play according to a previously prepared schedule. Instead, after each game or round, players rotate, moving to either another seat or another table. These can be played in several formats. In some such tournaments, a player retains the same partner for the entire tournament, and when the players move from table to table they move as a team. The more common format, however, takes place amongst individual players. In this format, at the start of a tournament, each player draws a random player number which will determine his initial partner and opponents. After each round, each player then independently moves to another seat or table in an orderly fashion based on his player number. This movement is usually dictated by a tally card provided to each player. This tally card also has a location for the player to record his score for each game or round. At the end of the contest, all scores earned by each player are summed from his tally card and the player or team with the highest total score is declared the winner of the tournament. The illustration shows an example tally card for a small two table tournament (8 players total). In this sample tally card, seven total rounds would be played and the contestant numbers at each table are shown. The card also includes a space to record the players and his opponents scores. The goal in this type of tournament is often to attempt to ensure each player plays as partner with every other player at least once. As a result, each player also ends up playing as an opponent against with every other participant two times.



Table Progression: In this variation of the standard Round Robin format, the movement of a team or player is directly influenced by that player or teams score during the previous round. The player or team with the higher score will move to a specific table while the players with the lower score will usually remain at the same table (although they may move seating positions at the table). In these cases, each table is usually clearly numbered. The winning team usually moves up to the next higher numbered table while the losers of the round usually remain at the current table. However, at the highest numbered table, the winners remain at the table and the losers move the first table. The initial seating arrangements may be randomly generated or may be based on a player's overall scoring from previous tournaments or sanctioned events. At the completion of the tournament, each player's cumulative score from all rounds are added and the player or team with the highest score would be declared the tournament winner.


Contract Bridge Tournament Scoring: When Contract Bridge is played in a tournament or contest setting, the usual form played is Duplicate Bridge although Progressive style Bridge is sometimes played. At the end of a session, players are usually assigned a number of points, either Match Points or International Match Points. From these points, the players can then easily determine the winners of the tournament or match.


Match Points: This tournament scoring format is usually encountered when playing Contract Bridge or similar games. In this format, an ongoing score, from game to game is kept for each player or partnership in the tournament. At the end of the tournament, each player is distributed a certain number of Match Points based on their score in comparison to all other players using the exact same hand. This is especially popular with Duplicate Bridge, since each team will play the exact same game, including specific cards dealt. Using this method, a player or team would earn 2 match points for each other team or player who scored less than they did and 1 such point for each other player or team who earned the same score using the same board or layout. In the American Contract Bridge League scoring method, players usually earn 1 match point for each other team they scored higher than and 1/2 point for each other team that scored the same.

This method is often used when each team plays identical hands (such as Duplicate Bridge) including the specific cards dealt to each player, vulnerability and position of the dealer. These match points are usually accumulated over a number of sanctioned tournaments and can give an overall ranking for a player or team. These scores are usually translated to a percentage to show the specific percentile a player would fall into.



International Match Points: Similar to Match points are International Match Points (often shortened to just IMPs). Using this method, a player or teams score is first subtracted from another score from the same tournament and then the result is compared to an IMP table to determine the specific number of International Match Points earned.

The other score to be subtracted from can be from any number of sources. If there are only two actual tables playing, then each player's score at one table would simply be subtracted from the score of the player in the same position at the other table after each completed game. However, most tournaments usually consist of more than two tables of play. In this case, this other score can be one of several things. The most common is to make the score to subtract from be the average score for all the players. Thus, a teams individual score would be subtracted directly from this average and then the difference compared to the chart to arrive at the specific number of game points earned.

The following chart shows the globally recognized International Match Points earned based on this point difference (using normal Contract Bridge scoring):

| Point Difference | IMPs Earned | | Point Difference | IMPs Earned | | Point Difference | IMPs Earned |
| --- | --- | --- | --- | --- | --- | --- | --- |
| 0 to 10 | 0 | | 370 to 420 | 9 | | 1750 to 1990 | 18 |
| 20 to 40 | 1 | | 430 to 490 | 10 | | 2000 to 2240 | 19 |
| 50 to 80 | 2 | | 500 to 590 | 11 | | 2250 to 2490 | 20 |
| 90 to 120 | 3 | | 600 to 740 | 12 | | 2500 to 2990 | 21 |
| 130 to 160 | 4 | | 750 to 890 | 13 | | 3000 to 3490 | 22 |
| 170 to 210 | 5 | | 900 to 1090 | 14 | | 3500 to 3990 | 23 |
| 220 to 260 | 6 | | 1100 to 1290 | 15 | | 4000 and Up | 24 |
| 270 to 310 | 7 | | 1300 to 1490 | 16 | | | |
| 320 to 360 | 8 | | 1500 to 1740 | 17 | | | |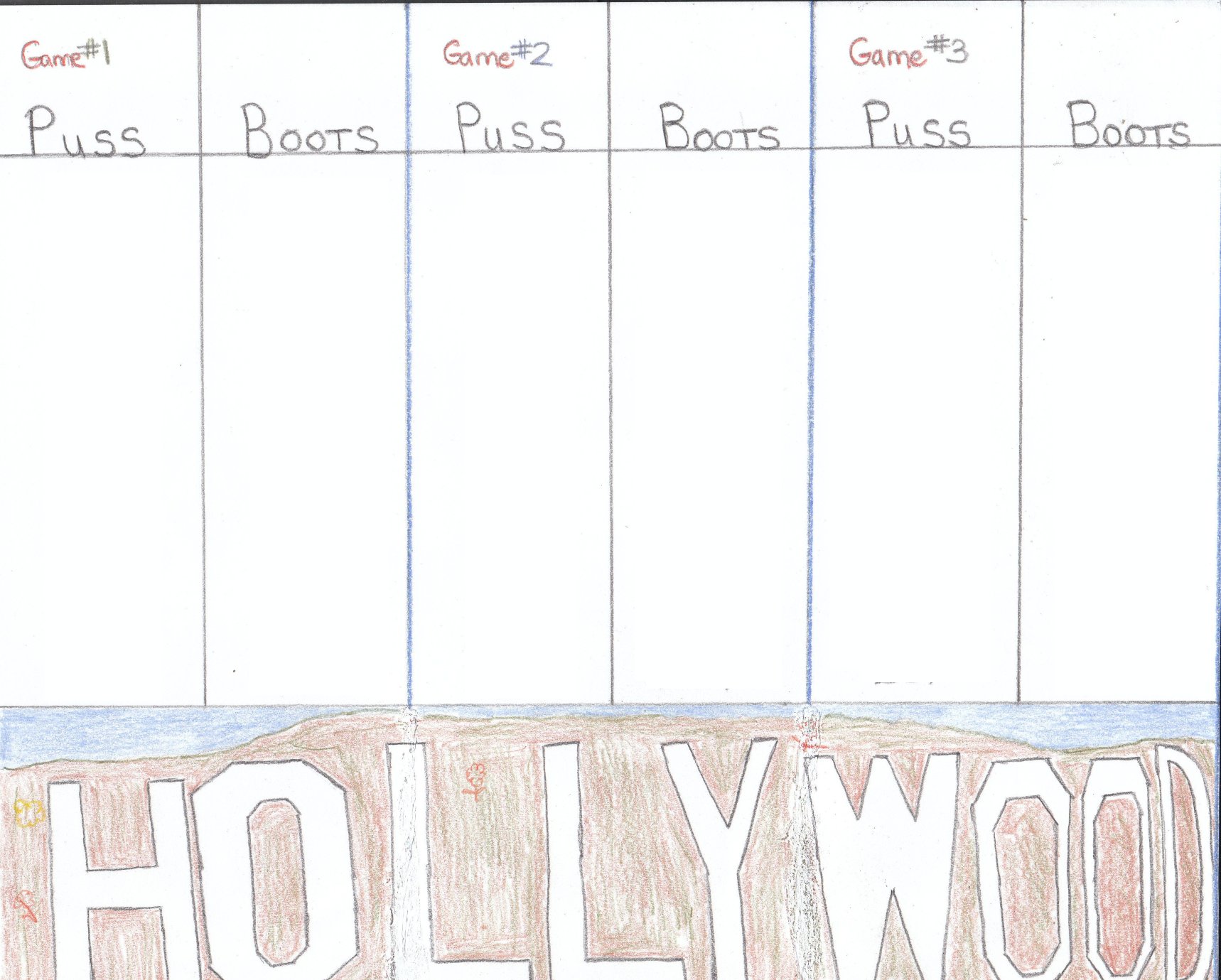 Hollywood Scoring:
High powered Gin Rummy players in the Hollywood movie colonies developed and popularized this method of scoring in the 1950's. In Hollywood scoring, each game is scored as if it were three separate games. Hollywood scoring is most prominently seen in Gin Rummy and Eights, however, this scoring method can be utilized in many other two player games.

Using Hollywood scoring, a set of columns for three separate games is usually made on the scoring sheet, labeled Game 1, Game 2 and Game 3. When a player wins his first hand, his earned score in the hand is added in the Game 1 column. Upon winning his second hand, the score for that hand is added in Column 1 and Column 2. For the third and each subsequent won hand, the score is added to all three columns. Thus, the game is score as if three simultaneous games were being played. Once a player has earned a high enough score in one game column to have won that game, that game is closed out (with that high scoring player declared the winner of the game in that column), with subsequent scores scored only in the remaining columns. Once a game column is closed out, no further scoring by either player may be added in that game column.

It is not unknown for some high scoring players to enjoy extending it beyond just three columns to almost any number, which of course will make for longer and a more protracted game session.

Copyright © 2015 CatsAtCards.com. All rights reserved.