Four Card Hands:
This version is played identically to the standard game other than the number of cards a player may have in his hand while playing. Instead of dealing himself a five card hand before starting, the players would each deal themselves only four card hands. Throughout the game, the player may only have a maximum of four cards in their hand at any time. This makes the game more challenging as the players have less cards with which to find legal plays.
Jokers
: This variation is also played identically to standard Speed, with the only exception being the addition of two Jokers to the deck. These Jokers are then wild cards and essentially can be played as any card the player wants. A player can play a joker on any card that is on a play pile and when a Joker is the top card of a play pile (either played there or flipped from a replacement pile) any card can be played on that joker. If Jokers are added, each player would receive 22 face-down cards at the beginning of the hand instead of the usual 21.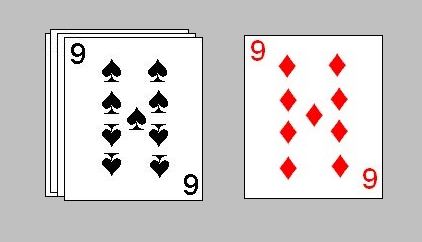 Doubles
: Another variation which is very similar to the standard game is the "Doubles" rules. The game is played the same as the standard game with one important exception. In addition to being able to play a card that follows in ascending or descending sequence, a player may also play a card that is of the same rank. Thus, a 9 could be played on another 9 as well as on any 8 or 10.
Speed for additional players
: Speed can also be played with more than two players. When doing so, however, the number of cards dealt to the various piles is somewhat different:
For three players, each player should receive a face-down pile of 16 cards and three cards should be placed face up on the table (rather than having the standard replacement piles). There will be one card left the deck which should be set aside and will not take part in this hand. Each players hand should consist of a maximum of four cards at any one time.
For four players, each player would receive face-down piles of 12 cards. Two replacement piles containing two cards each are used. The maximum cards a player should have in his hand at any one time during the game is four.
Another alternative for four players is to use two standard decks shuffled together, instead of one. In this case, each player would receive 24 cards. Four replacement piles would be dealt to the center with two face-down cards per pile. At the beginning of the game or when all players are unable to make further plays (but still have cards in their hand), each player would flip over the card from the replacement pile closest to their seat. A player should have a maximum of four cards in his hand at any one time during the game.
Speed can be played by even more players, however it can get quite chaotic with everyone playing simultaneously, thus it is usually limited to 4. However, if a group of 5 people want to play this game, they should ensure the players cards are dealt such that each player gets an equal number of cards. Usually a player is entitled to have a maximum of four cards in his hand at any one time and there are usually four play piles used. Each of the these play piles usually has a minimum of spare cards (2 or 3). Often when played by 5 or more such players, two or more decks are shuffled together to allow each player to have a fairly large number of cards they need to play in order to win the hand.
Copyright © 2015 CatsAtCards.com. All rights reserved.